Ad blocker interference detected!
Wikia is a free-to-use site that makes money from advertising. We have a modified experience for viewers using ad blockers

Wikia is not accessible if you've made further modifications. Remove the custom ad blocker rule(s) and the page will load as expected.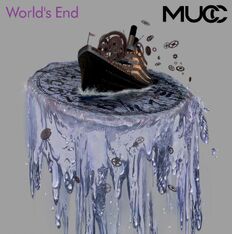 Single from MUCC. The title song is used as an intro theme song for the TV anime series "Meganebu!" Contains three tracks total. *A part of included tracks of all the editions are different from each other.
Tracklist
Edit
02. WateR 03. Mr. Liar -JaQwa Remix-
Okubyou mono bakari wo no seta gouka kyakusen ga Taigime ibun wo kakaete shukkou shita nda Ai to kibou to afureru kurai no yume to Takusan no egao wo no sete
Kono fune wa donnani hageshii arashi ga kita to shite mo Zettai ni shizumu koto wa arimasen Datte kono fune wa sekai de ichiban, motto mo saisentan no Mirai no fune desu kara
Machigai darake de koukai darake da Sekai no owari ga utsukushiku mi eta
Korogatte korogatte heibonna mai nichi no owari wo nozonde ita nda Datte sonna ougesana monogatari doko ni mo riariti nante nai nda yo Soudaro kitto dare mo sonna koto nozonja inai no sa World's End
Yagate fune wa fukai fukai kiri ni nomikomarete Ima doko ni iru no ka sae wakarimasen Ai to kibou to afureru kurai no yume wa Te no hira kara kobore ochimashita
Machigai koukai zannenna shukuzuda aa Chiisana sekai ni kami sama ga koboshita Hitotsubu no namida kagayaite kieta
Korogatte korogatte heibonna mai nichi no owari wo nozonde ita nda Kitte sonna ougesana monogatari doko ni mo riariti nante nai nda yo
Korogatte korogatte heibonna mai nichi no owari wo nozonde ita nda Futto bashite ketto bashite tai kutsuna Shyobboi ruutiin nante mou sute chae yo Soudaro kitto dare mo sonna koto nozonja inai no sa World's End